Evaluation examples demonstrate the systematic investigation of the merit, worth, or significance of an object or effort. Evaluation practice has changed dramatically during the past three decades – new examples of methods and approaches have been developed and are now used for increasingly diverse projects and audiences.
Examples of Organizational Evaluation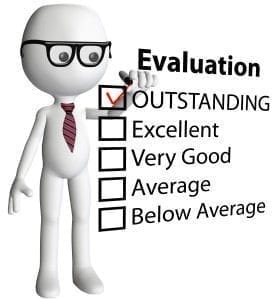 Evaluation is an essential organizational practice for all types of community health and development work. Examples demonstrate a way to evaluate the specific projects and activities groups may take part in, as well as evaluate an entire organization or comprehensive initiative.
Program evaluation examples offer a way to understand and improve using methods that are useful, feasible, proper, and accurate. The framework examples described below are a practical non-prescriptive tool that summarizes in a logical order the important elements of program evaluation.
Evaluation Framework Examples
When you are conducting an employee performance review, there are efficient ways to present information and there are ways that can be counter-productive. The performance evaluation is something the manager normally does not want to do and the employee does not want to receive. By reviewing examples and understanding the right things to say in an appraisal can make the process better for you and the employee.
---
Other Evaluation Form Examples
---
Avoid Opinions
A performance evaluation needs to state the facts to be effective. Opinions have no place in a performance review. Avoid making statements such as "The employee is lazy," "The employee is rude" or "The employee lacks respect for customers." Instead, use statements that give specific examples of the behavior you feel is detrimental to the employee's performance. For example, rather than saying "I think you are rude" to an employee, say, "Customers are mentioning that it is difficult to get information from you during a phone call." Have facts and unbiased information available to back up your statements to make them facts and not opinions.
Stay Professional
Even if you have known the employee for years, a performance review should be treated as a professional meeting. Statements such as "Your performance was terrible" or "I think you really messed this one up" are unacceptable. On the other hand, positive statements such as "You were awesome" or "The customers love you" also take away from the professional nature of the meeting. Use more professional language instead, such as "Your performance was unacceptable" or "The customers report being very pleased with your work." Not only does it keep the conversation professional, but it also helps give positive and negative comments equal weight.
Invite Comments
The performance appraisal needs to be an interactive experience for you and the employee for it to be effective. Ask "Do you have any questions?', "What input would you like to give?" and "Would you agree or disagree with that assessment?" to invite employees to give their input. When you deliver these invitations, be sure to engage the employees with eye contact to let them know you are being sincere with your need to hear their opinions.
These examples of evaluation feedback will help those reviewers to be more professional in their approach. By following the examples, the process of evaluation will be more constructive, enabling goals to be met.