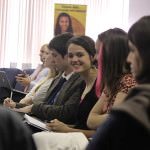 Effective evaluation of student performance is an on-going process.  Annually each teacher or administrator provides a summary of progress toward meeting student expectations and last year's goals.
The student evaluation form is to be used for annual review, and at other times during the year when formal feedback is needed.
Student Evaluation Form: Downloads
Microsoft Word 97-2003: 
Microsoft Word 2010: 
Adobe PDF: 
Student Evaluation Form: Areas of Review
I – Student Success Factors
These include key responsibilities and basic competencies. Rate each factor based on performance during the period identified above.  The factors include key responsibilities specific to this position, and competencies common to the campus operational/technical student standards.
II – Goals from last year or last evaluation period
Rate the progress made on each of the goals established at the beginning of the period. Also include any new goals established during the evaluation period and note any modifications to the original goals.
III – Goals for this coming year or evaluation period
Enter the performance goals for the next period to be evaluated. Individual goals and objectives should align with those of the department and the campus.
IV – Students Development Plan
Enter any actions that will be taken by the student or teacher/administrator to support the goals indicated in Part III above, or specific student success factors in Part I.  The plan may include educational growth, subject mastery, or actions to correct performance.
Student Evaluation Form: Rating Scale
Level 5 (E)    Exceptional
Performance far exceeded expectations due to exceptionally high quality of work performed in all essential areas of study, resulting in an overall quality of work that was superior; and either 1) included the completion of a major goal or project, or 2) made an exceptional or unique contributions. This rating is achievable by any student though given infrequently.
Level 4 (EE)    Exceeds expectations
Performance consistently exceeded expectations in all essential areas of study, and the quality of work overall was excellent.  Annual goals were met.
Level 3 (ME)    Meets expectations
Performance consistently met expectations in all essential areas of study, at times possibly exceeding expectations, and the quality of work overall was very good.  The most critical annual goals were met.
Level 2 (I)    Improvement needed
Performance did not consistently meet expectations – performance failed to meet expectations in one or more essential areas of study, and/or one or more of the most critical goals were not met.  An educational development plan to improve performance must be outlined in Section 4, including timelines, and monitored to measure progress.
Level 1 (U)    Unsatisfactory
Performance was consistently below expectations in most essential areas of study, and/or reasonable progress toward critical goals was not made.  Significant improvement is needed in one or more important areas.  In Section 4, a plan to correct performance, including timelines, must be outlined and monitored to measure progress.
*The inclusion of goals is typically a consideration in assessing the overall rating with a student evaluation form.